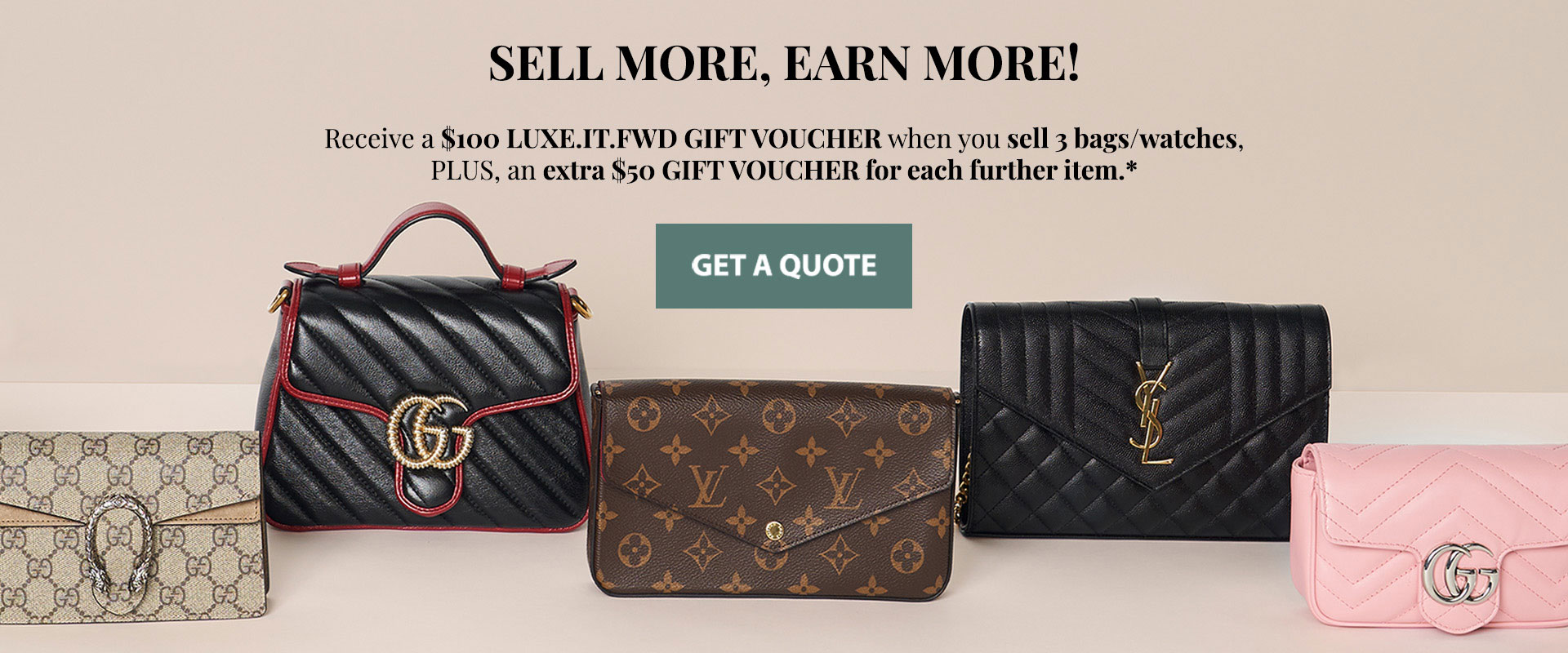 *The Popup Promo is subject to the terms and conditions on this page. Under Luxe.It.Fwd's Popup promo, sellers will receive a $100 Luxe.It.Fwd gift voucher when they consign or sell 3 bags and/or watches with Luxe.It.Fwd during the month of July/ August 2022, plus an additional $50 gift voucher for each additional bag or watch consigned/sold, up to a maximum gift voucher amount of $500 per person.
By participating in the promotion you agree to these terms, including that it only applies to items where the seller has both sought a quote and shipped their item during July/ August 2022. This promotion does not apply to quotes obtained or items shipped to Luxe.It.Fwd prior to 18 July 2022, nor to quotes obtained or items shipped after 31 August 2022. The promotion only applies to bags and watches, and not to wallets, pouches or any items other than bags or watches.
For items that are sold on direct sell, the eligible seller will receive the gift voucher once their items have been authenticated. For items on consignment, the eligible seller will receive their gift voucher once the items are listed on Luxe.It.Fwd's website, however it is strictly a condition of the giving of the gift voucher that the consigned items are listed for Luxe.It.Fwd's standard ninety day consignment period (if not sold earlier). For items to be eligible for the promotion they must have a selling price of more than $995. If a seller requests the return of a consigned item prior to the standard 90 day listing period, then the gift voucher will be cancelled if not used, or if used then the seller must repay the gift voucher amount prior to their item being returned and the item will remain listed until this occurs.
All gift vouchers will be emailed and are eligible for redemption from Luxe.It.Fwd for 2 years after being issued. Gift vouchers must only be used by the seller and are non-transferable.
A seller must be 18 years or older to participate in the promotion, and must be the owner of the items that they are selling. A seller must not create an artificial arrangement to sell items via another person in order to claim additional gift vouchers. Other resellers or those engaged by other resellers are not entitled to participate in the promotion. Payments for items sold must only be made to the seller's bank account and not any other party. Luxe.It.Fwd reserves the right to exclude any person and cancel gift vouchers for those who it considers is creating artificial arrangements or otherwise not complying with these terms or acting inappropriately, or to impose any additional conditions it considers necessary. Decisions made by Luxe.It.Fwd under these terms are final and not subject to review.
These terms represent the entire terms regarding the selling promotion, and may be updated without prior notice by publishing updated terms on our site. Continued participation in the promotion after modification to these terms constitutes acceptance to the modified terms.